Both of you reading War and Peace together? Harry Potter? Maybe the Bible or the Qur'an?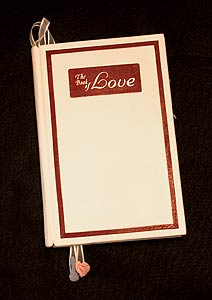 Here's the perfect solution for classy partners who read and share. Never lose your place again.
This project stemmed from the upcoming wedding of one member of my collaborative and sneaky art group, the Bay Area Book Artists.
We secretly designed this gift for him in particular, each participating member creating a page of verse and art about love that was to his taste of the early classics.
Then member Don Drake of Dreamingmind Bindery leatherbound the pages into a fine specimen of art group collaboration, gift-giving and taste.
I did not find myself resonating with the early classics theme but proposed early on that I do something in crochet. Crochet is a classic art form, I argued, because people have been crocheting since we had fingers. (Yes, you don't need a fancy hook.)
I asked if the group would accept an offering of, say, a crocheted bookmark in some shape or other. Sure, they said. I went to work.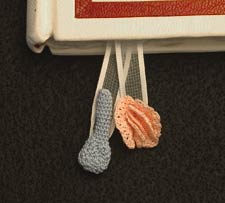 Remembering the comments about my contribution to this group's past collaborative wedding gift of a bookquet, I felt it my responsibility to answer their previously unmet wishes.
Seems to resonate with the classic theme, don't you think?
Coming soon: hers 'n hers, and his 'n his, as well as his 'n hers 'n his, and hers 'n his 'n hers, and … .