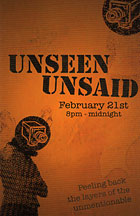 Unseen Unsaid at the Climate Theater
Peeling back layers of the Unmentionables.
This show was for one night only, with a collection of over 20 artists exhibiting a wide range of art forms from photography and painting to video and dance.
The theme was my favorite subject – taBoos. hard, soft, light, funny, dark, whatever.
In a perfect space – smaller than the Winchester Mystery House but with more nooks & crannies.
I had several crochet pieces on display, some which had never seen the public light of day.
Everything looked like a sorta normal house until you looked a little closer – my FAYYYvorite kind of art.