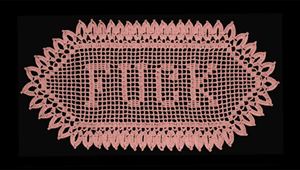 The world can now go on spinning. All those pretty crochet flowers and pineapples, duckies and bows were making me crazy.
I had this doily discreetly on display at a BABA Book Arts Jam.
Near the end, a woman made a beeline for my table. She stopped and looked around the table like she was looking for the next clue in one of those traveling puzzles.
Finally she said, "I heard there is a doily here that says 'fuck'."
I moved a few pieces off of the letters and after a while she said, "I keep my house pretty far away from the normal … but that would work."
Filet crochet with #10 thread
About 18-1/2 inches long by 8-1/2 inches wide