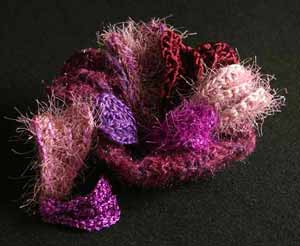 Warm the home or gynecological office with this basket of vulvae.
Can be made to order to your color scheme, just ask. Includes 8 different vulvae and a crocheted basket whose center exhibits the majestic quality of an amethyst geode.
Note that each vulva creation is unique, even those of the same fibers, just like nature.
Crochet sculpture
Size variable
For this offering, basket is 5-1/2 inches in diameter and 1-3/4 inches high and holds 8 vulvae.
Vulvae range from 2 inches to 3-3/4 inches long
Handwash cool or dryclean